MEGASLIM

T6




Besides the standard technical features of porcelain stoneware, the 6mm thick version offers a lightweight option which is extremely practical in the field of interior design and furniture, as well as for curtain walls or wall tiles mounted with a direct bonding method.

The inkjet ceramic technology allows for any collection and colour, a high number of different graphics, for an aesthetic effect of the flooring and cladding that is always varied and never repetitive.

This out-of-the-ordinary material guarantees stunning designs offering all the technological advantages of porcelain stoneware and allows floors and walls to be coordinated with the furniture featured in all the surrounding spaces.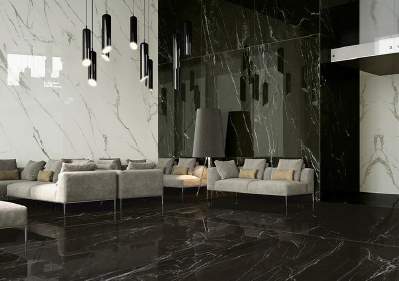 Features
- Extra large panels sizes, from 3200x1600 to 1200x1200*
- Thickness from 5.5mm to 6.5mm*
- Highly compacted porcelain stoneware
- Ligh weight thin panels
- Resistant to fungi
- Resistant to UV light
- Resistant to high heat
- Easily cut and drill on site
- Easy to clean and maintain

* Sizes and thickness subject to colour selection. Panels are supplied randomly, no selection possible

Technical details of porcelain panels
| | | | |
| --- | --- | --- | --- |
| | Standards limits | Product values | Standards |
| Water Absorption | ≤ 0.5% | ≤ 0.2% | ISO 10545-3 |
| Module of Rupture | ≥ 35 N/mm2 | ≥ 50 N/mm2 | ISO 10545-4 |
| Frost Resistance | Resistant | Resistant | ISO 10545-12 |
| Thermal Shock Resistance | Resistant | Resistant | ISO 10545-9 |
| Deep Abrasion Resistance | ≤ 175 mm3 | Compliant | ISO 10545-6 |
| Chemical Resistance | UB | ULB; UHB | ISO 10545-13 |
| Stain Resistance | Class 3 (min) | Class 4 | ISO 10545-14 |
| Colour Resistance | Resistant | Resistant | DIN 51094 |